Organic Turkey Tail Mushroom Capsules
|| Organic • Non-GMO • Vegan • Soy Free • Grown & Made in the USA ||
Organic Turkey Tail Mushroom Benefits
When taken daily, initial publicly available clinical trials show Turkey Tail Mushroom may possibly support:




2-6x stronger than popular Turkey Tail mushroom extracts, delivering over 1g of Polysaccharides/serving.
May support the immune system in human and animals*
One of the staples, traditionally used as a health tonic by TCM*
May act as a gut prebiotic and support liver and kidney health*
Certified organic, Non-GMO, vegetarian/vegan friendly
No heavy metals, pesticides, herbicides, insect droppings, or any of the other contaminants.
Overview: What is Organic Turkey Tail Mushroom?
COMPOSURE
75% Mycelium
20% Fruit bodies
5% Spores

FEATURES
✓ Mushrooms are cooked 2x at high heat.
✓ Full-spectrum approx. 78% polysaccharides
✓ Contains 1,3-1,6 Beta Glucans (26%)

DIRECTIONS & LABEL
As a dietary supplement, take one capsule three times daily with water. For strong effect, take three capsules once daily with water

LAB GROWN: WHY CHOOSE A FULL-SPECTRUM?
While the polysaccharide content is absolutely important, there are other crucial compounds within the mushrooms that also may contribute to their positive effects. This is why we will also recommend a full-spectrum.
Full Product Label
Mushroom Production
Turkey tail is one of the most common mushrooms in the entire world. If you walk through any forest in the northern hemisphere, you're almost guaranteed to find at least one of these nutrient-dense powerhouses.

The second you see a Turkey Tail mushroom, you'll know exactly how it got its name. Turkey tail (AKA Coriolus versicolor or Polyporus verisolor), is a multi-colored mushroom with a shape that resembles a turkey's fan.

The Chinese began using Turkey Tail mushrooms to brew tea as early as the 15th century to support the immune system and provide an increase in all-around energy. Even before that, it was used to support health by Europe, Canadian, and Chinese herbalists. Today, turkey tail has been the subject of hundreds of clinical studies.


Quality and Production


100% Certified Organic | Sustainable | Non-GMO | Grown For Functional Nutrition


Our Trametes versicolor – also known as Coriolus versicolor, is the purest and most potent we know of in the world. Our mushrooms are grown using only certified organic growth medium in a state of the art 21st century proprietary solid state fermentation process. Brain Forza's lab-grown mushrooms are significantly more potent than anything that is grown on a farm or in the wild.


Brain Forza's organic Turkey Tail mushrooms are grown under highly controlled conditions with year-round climate control, on a custom USDA Certified Organic 100% American grown substrate, which yields 95%> mushroom tissue compared to regular substrate which yields closer to only 75% mushroom tissue.


Brain Forza's mushroom products are grown for the purpose of functional nutrition, and are full-spectrum made up approximately of 75% mycelium, 20% fruiting bodies and 5% spores.


Extracts are not necessary, especially considering our mushroom products offer 3-6x as much polysaccharides as popular extract products. Our organic Turkey Tail mushroom contains just over 1,100mg of organic polysaccharides. Compare that to most Extract products which feature only around 200mg.


Our organic Turkey Tail mushroom is the best we know to be available today and is always in limited stock due to quality vs batch size restrictions. We have the mushrooms grown for each production run, so buy while you can!


No pesticides, heavy metals, insect droppings, herbicides, or any other contaminants, as can be found in wild or farm grown mushrooms | 100% Made in America.
Organic Turkey Tail Mushroom Coffee and Tea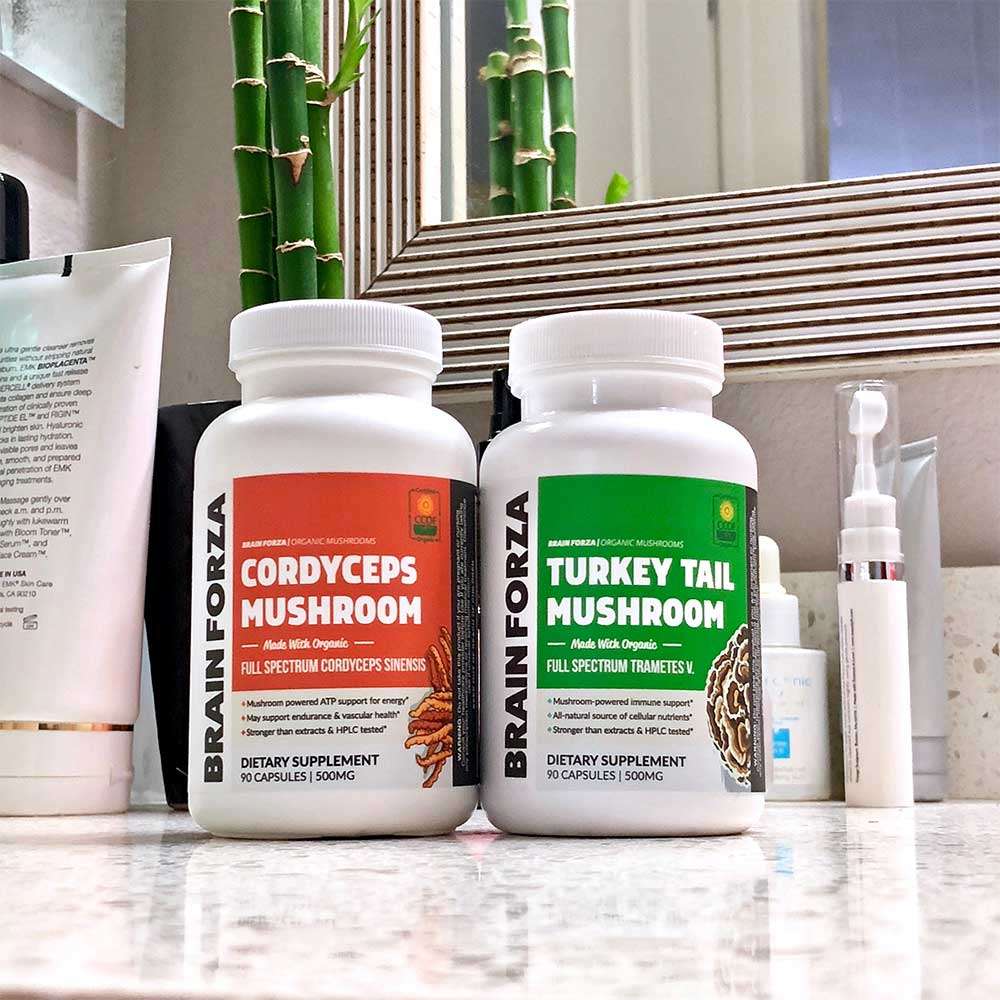 Organic Turkey Tail Powder Coffee and tea
Yes! You can use Brain Forza Turkey Tail Mushroom to make Turkey Tail coffee and tea. The only difference separating organic Turkey Tail mushroom powder and organic Turkey Tail mushroom capsules are......the capsules!

Yes, you may absolutely separate the capsules to empty the organic Turkey Tail mushroom powder into coffee or hot water to make a delicious adaptogen-infused coffee or tea drink :)

INSTRUCTIONS
Just open and pour 1-3 capsules into hot water or coffee prepared to your taste, add cinnamon (if you wish), stir, and enjoy!
Full-Spectrum Turkey Tail Mushroom v.s. Turkey Tail Mushroom Extract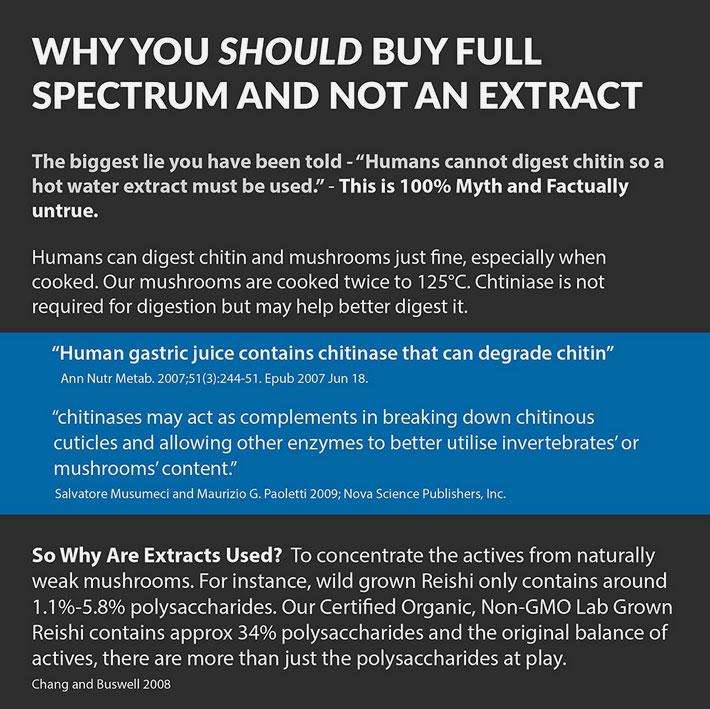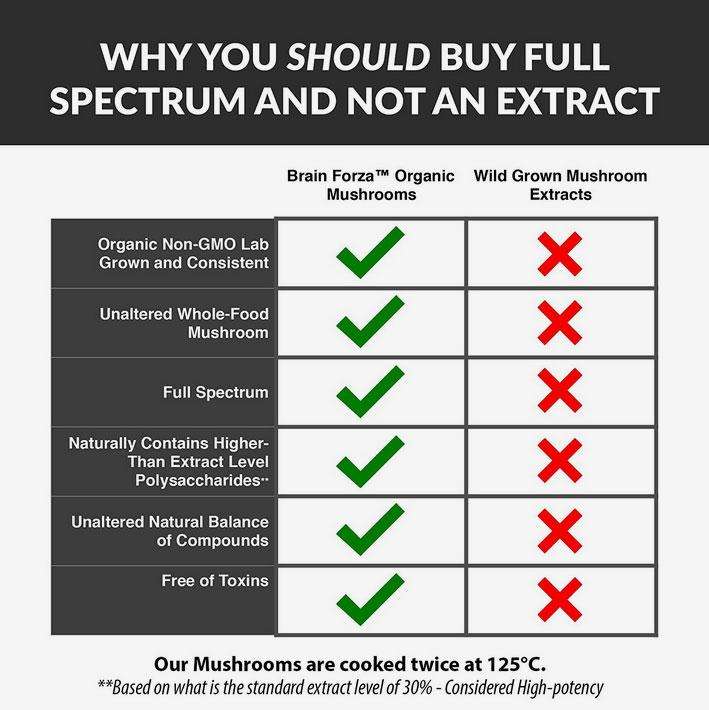 Organic Turkey Tail Mushroom Reviews
The best mushrooms
I'll make this one quick. Again like I said before, they make the best mushrooms in my opinion. I use Cordyceps most, but try to take the other three mushrooms everyday as well, but forget sometimes :( I wish they would make a combo product you could take everyday.
Great product at a slightly elevated cost.
I think the Brain Forza organic turkey tail mushroom supplement is the very best! I will continue to buy it, but not from Brain Forza, because it took almost 3 weeks to be delivered, which is crazy! Amazon carries it and never takes that long to deliver it.
Saving my life...
In 6 months time a tumor
that was 5cm in my liver, disappeared taking this, along with my chemo and radiation.
I tell everyone about it and have gotten
30 some people to start on it. Will take it forever!
Delivery prompt, remain healthy. It must be working.
Excellent product quality, great value
I ordered the 6 bottles of turkey tails for the first time from Brain Forza in April 2020. I held back on leaving any review since then so that I can try out the product to determine how well it works. My immune system was very poor before I went on the regimen of turkey tails. I was also losing my hair. Having taken the turkey tails for several months, I now feel well with far less coughs and runny noses than I ever had before. I also observe a side effect of seeing thicker hair on my head. I'm now a true believer of the effects of turkey tails, and I can tell that Brain Forza has produced a very good quality grade of it.