Organic Red Reishi Mushroom Capsules
|| Organic • Non-GMO • Vegan • Soy Free • Grown & Made in the USA ||
Organic Red Reishi Mushroom Benefits
When taken daily, initial publicly available clinical trials show Reishi Mushroom may possibly support:




Combination of the 4 best strains of Reishi known to man*
4x or more stronger than popular Reishi extracts. Our Reishi offers 1,095mg of Polysaccharides compared to only 32mg-132mg from other popular brands
Potent adaptogen used in traditional Chinese medicine for at least 5000 years*
Open the capsules and empty the Organic Reishi powder out into coffee
Certified organic, Non-GMO, vegetarian/vegan friendly
No heavy metals, pesticides, herbicides, insect droppings, or any of the other contaminants.
Overview: What is Organic Red Reishi Mushroom?
COMPOSURE
75% Mycelium
20% Fruit bodies
5% Spores
FEATURES
✓ Mushrooms are cooked 2x at high heat.
✓ Full-spectrum approx. 68% polysaccharides
✓ Contains 1,3-1,6 Beta Glucans (23%), Alpha Glucans, Tripeptides, Ganoderic Acid +more

DIRECTIONS & LABEL
As a dietary supplement, take one capsule three times daily with water. For strong effect, take three capsules once daily with water

LAB GROWN: WHY CHOOSE A FULL-SPECTRUM?
While the polysaccharide content is absolutely important, there are other crucial compounds within the mushrooms that also may contribute to their positive effects. This is why we will also recommend a full-spectrum.
Full Product Label
Mushroom Production
Some claim it is the key to vitality and longevity – Red Reishi mushroom has been traditionally used for centuries by ancient cultures to support immunity, as well as a range of other common health issues.

Reishi, also known as lingzhi throughout China, is a large mushroom that has developed a reputation based on its health-supporting properties. Dating back at least 2,000 years, it is the most studied and most valued supplemented mushroom, as it's considered to be "the mushroom of immortality." by ancient cultures.

Throughout history, Red Reishi mushroom has been utilized to support numerous health concerns. Today, there have been a number of studies and human trials showcasing Reishi mushroom as a potential supporter of immune function, liver health, brain health, and more.


Being a natural adaptogen, Reishi may also help support the body's resistance to stress.


Quality and Production


100% Certified Organic | Sustainable | Non-GMO | Grown For Functional Nutrition


Our Ganoderma lucidum is the purest and most potent we know of in the world. Our mushrooms are grown using only certified organic growth medium in a state of the art 21st century proprietary solid state fermentation process. Brain Forza's lab-grown mushrooms are significantly more potent than anything that is grown on a farm or in the wild.


Brain Forza's Red Reishi mushrooms are grown under highly controlled conditions with year-round climate control, on a custom USDA Certified Organic 100% American grown substrate, which yields 95%> mushroom tissue compared to regular substrate which yields closer to only 75% mushroom tissue.


Brain Forza's mushroom products are grown for the purpose of functional nutrition, and are full-spectrum made up approximately of 75% mycelium, 20% fruiting bodies and 5% spores.


Extracts are not necessary, especially considering our mushroom products offer 3-6x as much polysaccharides as popular extract products. Our organic Red Reishi mushroom contains just over 1,090mg of organic polysaccharides. Compare that to most Extract products which feature only around 125mg.


Our Organic Red Reishi mushroom is the best Gano available today and is always in limited stock due to quality vs batch size restrictions. We have the mushrooms grown for each production run, so buy while you can!


No pesticides, heavy metals, insect droppings, herbicides, or any other contaminants, as can be found in wild or farm grown mushrooms | 100% Made in America.


Organic Red Reishi Coffee and Tea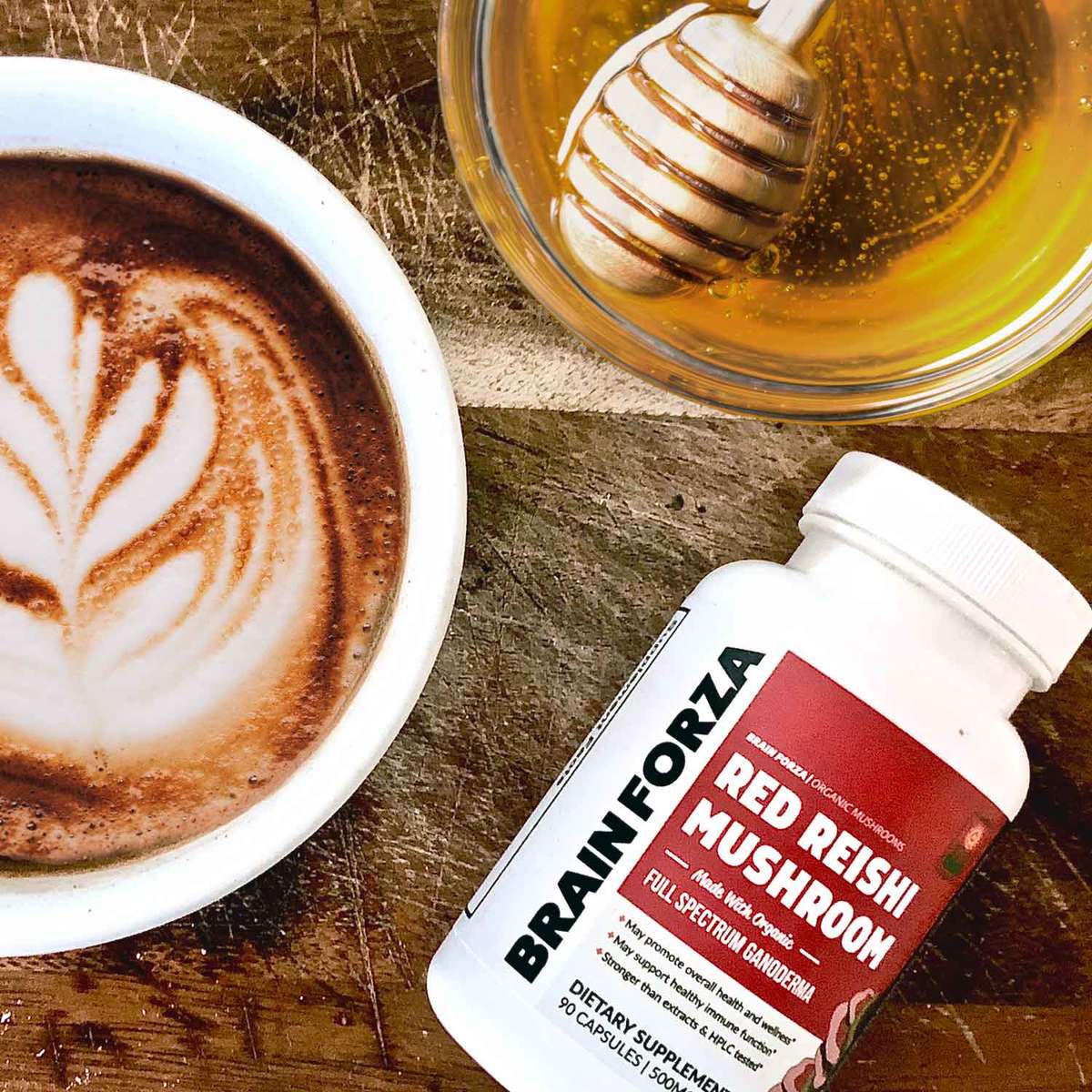 Yes! You can use Brain Forza Red Reishi Mushroom to make Red Reishi coffee and tea. The only difference separating organic Red Reishi mushroom powder and organic Red Reishi mushroom capsules are......the capsules!

Yes, you may absolutely separate the capsules to empty the organic Red Reishi mushroom powder into coffee or hot water to make a delicious adaptogen-infused coffee or tea drink :)

INSTRUCTIONS
Just open and pour 1-3 capsules into hot water or coffee prepared to your taste, add cinnamon (if you wish), stir, and enjoy!
FULL SPECTRUM RED REISHI MUSHROOM V.S RED REISHI MUSHROOM EXTRACT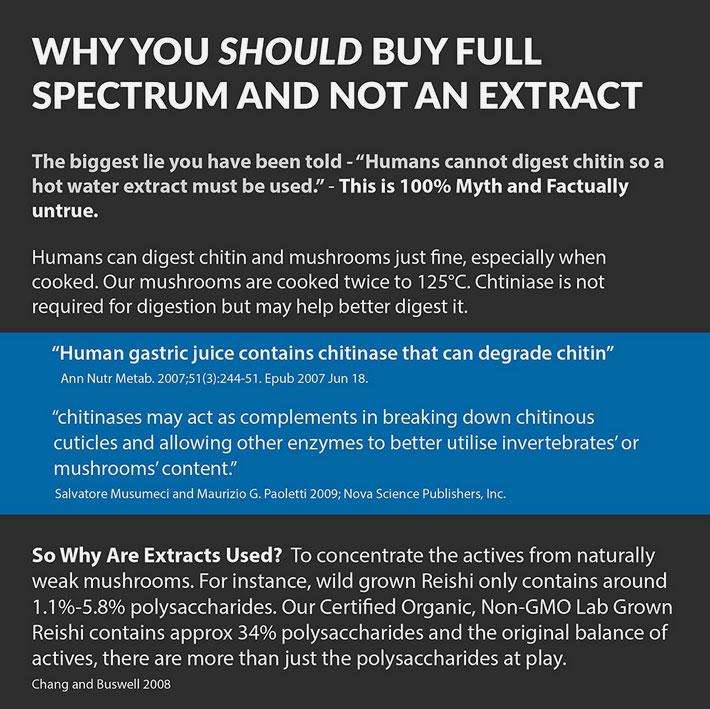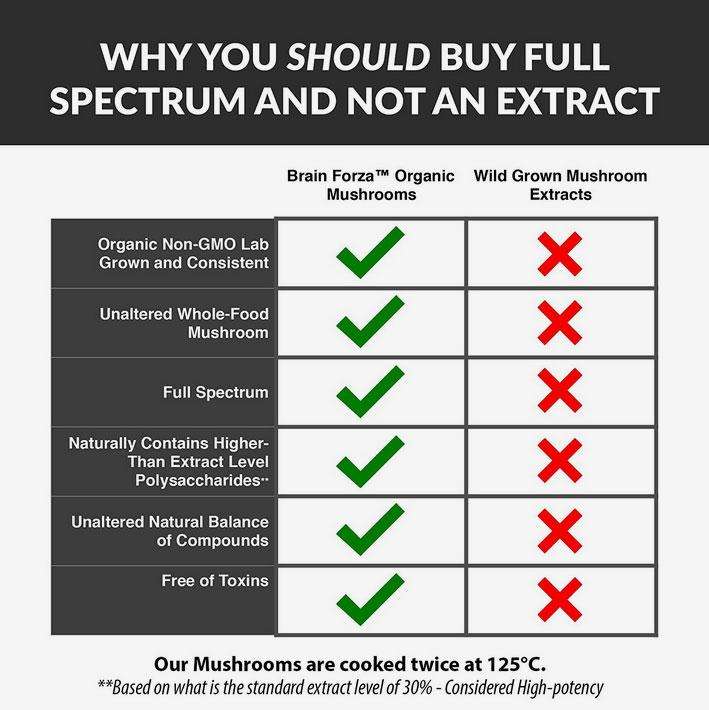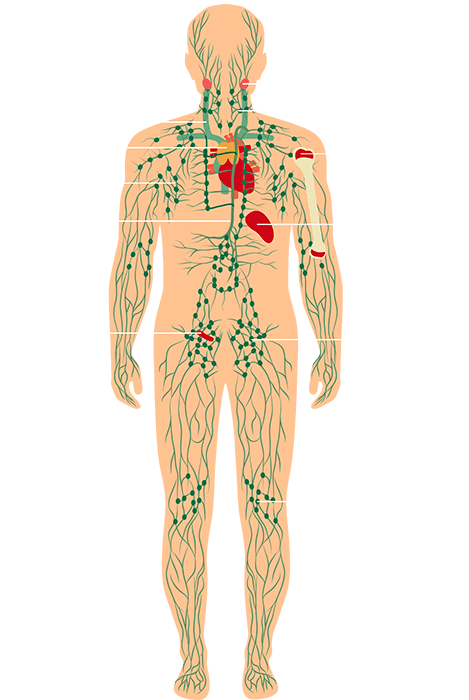 Immune System and Brain Health
A recent discovery by a team of researchers from the University of Virginia (UVA) found a direct link between the brain and the immune system, via lymphatic vessels that were not previously known to exist.


Lymphatic vessels carry immune cells throughout the body similar to how blood vessels cary blood throughout your body. It was thought that lymphatic vessels stopped before reaching the brain, however, the new discovery detected lymphatic vessels beneath a mouse's skull that could take immune cells into the brain.


This means that your immune system could play a very important role in brain health.


It's becoming increasingly clear how important it is to take care of your immune system to maintain maximal brain health and performance
(source)
.
Organic Red Reishi Mushroom Reviews
Small capsule and easy to swallow
It does the job! Easy way to take some red reishi!
Best mushrooms
These guys make the best mushrooms, US made and grown.
Highest quality Reishi
Best quality Reishi I have ever incorporated into my diet. I take daily and find the results to be very balancing in my supplement diet.
Be careful
Good product, but maybe a little too good. I only took this twice on separate occasions because the effect was so strong, and the only other supplements/meds I had was the adaptAll earlier in the day and I'm a health 23yo guy. The first time, with 1 pill @4:30pm, I was extremely drowsy within 30min and barely remember the rest of the day. Tried it again a couple weeks later, 2pills @10:00pm, and I felt extremely drowsy again but additionally it felt like my heart was going to explode, and I drifted in and out of consciousness. I felt great the next day though, the same feeling I have the day after an intense crossfit workout. I would be scared to let anyone over 45yo try this supplement because the cardiovascular effect was so strong. Also this is so much stronger than alcohol as a depressant, so plz plz plz only take just before bed. And finally, I'm concerned that taking this on a regular basis would cause drowsiness/low-energy and possibly even serotonin syndrome. I would only take this on rare occasions as a sleep aid and only if you're healthy.
Hello Matthew! Thanks so much for your order and your review!! Just to be clear, that is not a typical reaction by any means. Infact, in 10 years of operation, we have never heard of something like this. The worst we have heard is light stomach cramps to those already sensitive to mushrooms (they can be a bit more work for your stomach to digest). Most of our Red Reishi and Lions mane supplement customers are actually seniors. My mom takes it, and I take upto 6 capsules some days. Your reaction might be an allergic reaction. I recommend you stop using the Reishi and ask your doctor about it to try to find out what's going on.
Trusted Product
I feel this is the only true Reishi mushroom product that I can buy. I take them daily for anti cancer properties as I am a two-time breast cancer survivor. Very happy to have found this company that will only provide top quality products.