Organic Cordyceps Sinensis Mushroom Capsules
|| Organic • Non-GMO • Vegan • Soy Free • Grown & Made in the USA ||
Organic Cordyceps Sinensis Mushroom Benefits
When taken daily, initial publicly available clinical trials show Cordyceps Sinensis Mushroom may possibly support:

Healthy Energy & ATP Levels*

Healthy Oxygen Utilization*


2-6x stronger than popular Cordyceps sinensis mushroom extracts, delivering over 1g of Polysaccharides/serving.
May support increased endurance and athletic performance when taken daily*
May support increased vitality, energy and oxygen utilization*
True, low-oxygen grown Cordyceps sinensis, not Cordyceps militaris*
Certified organic, Non-GMO, vegetarian/vegan friendly
No heavy metals, pesticides, herbicides, insect droppings, or any of the other contaminants.
Overview: What is Organic Cordyceps Sinensis Mushroom?
COMPOSURE
75% Mycelium
20% Fruit bodies
5% Spores

FEATURES
✓ Mushrooms are cooked 2x at high heat and slow roasted.
✓ Full-spectrum approx. 89% polysaccharides
✓ Contains 1,3-1,6 Beta Glucans (32%)

DIRECTIONS & LABEL
As a dietary supplement, take one capsule three times daily with water. For strong effect, take three capsules once daily with water

LAB GROWN: WHY CHOOSE A FULL-SPECTRUM?
While the polysaccharide content is absolutely important, there are other crucial compounds within the mushrooms that also may contribute to their positive effects. This is why we will also recommend a full-spectrum.
Full Product Label
Mushroom Production
Cordyceps sinensis became known worldwide almost instantaneously after 1993 Chinese national games when Coach Ma revealed the secret to his runners' record-breaking success – Cordyceps mushrooms.

Don't confuse Cordyceps sinensis with Cordyceps militaris. These two mushrooms work in entirely different ways and ARE NOT the same. If you want real-world benefits like increased athletic performance, vitality, energy, and oxygen utilization, you want Cordyceps sinensis. This is the only way you'll be able to exercise harder and longer so you can see quicker and better results.

Though Cordyceps sinensis typically grows on caterpillars or other insects, ours are lab-grown on 100% certified organic growth medium. By using this state of the art, 21st century technology, we're able to provide you with a mushroom extract that is 2-6x stronger than other popular supplements.

Our Cordyceps sinensis is grown under similar circumstances. It is 100% USA made and grown in a low-oxygen environment to yielding exceptionally strong results.


Quality and Production


100% Certified Organic | Sustainable | Non-GMO | Grown For Functional Nutrition


Our Cordyceps sinensis is the purest and most potent we know of in the world. Our mushrooms are grown using only certified organic growth medium in a state of the art 21st century proprietary solid state fermentation process. Brain Forza's lab-grown mushrooms are significantly more potent than anything that is grown on a farm or in the wild.


Brain Forza's Cordyceps sinensis mushrooms are grown under highly controlled conditions with year-round climate control, on a custom USDA Certified Organic 100% American grown substrate, which yields 95%> mushroom tissue compared to regular substrate which yields closer to only 75% mushroom tissue.


Brain Forza's mushroom products are grown for the purpose of functional nutrition, and are full-spectrum made up approximately of 75% mycelium, 20% fruiting bodies and 5% spores.


Extracts are not necessary, especially considering our mushroom products offer 3-6x as much polysaccharides as popular extract products. Our organic Cordyceps sinensis mushroom contains just over 1,100mg of organic polysaccharides. Compare that to most Extract products which feature only around 200mg.


Our organic Cordyceps sinensis mushroom is the best we know to be available today and is always in limited stock due to quality vs batch size restrictions. We have the mushrooms grown for each production run, so buy while you can!


No pesticides, heavy metals, insect droppings, herbicides, or any other contaminants, as can be found in wild or farm grown mushrooms | 100% Made in America.
Full-Spectrum Cordyceps Sinensis Mushroom v.s Cordyceps Sinensis Extract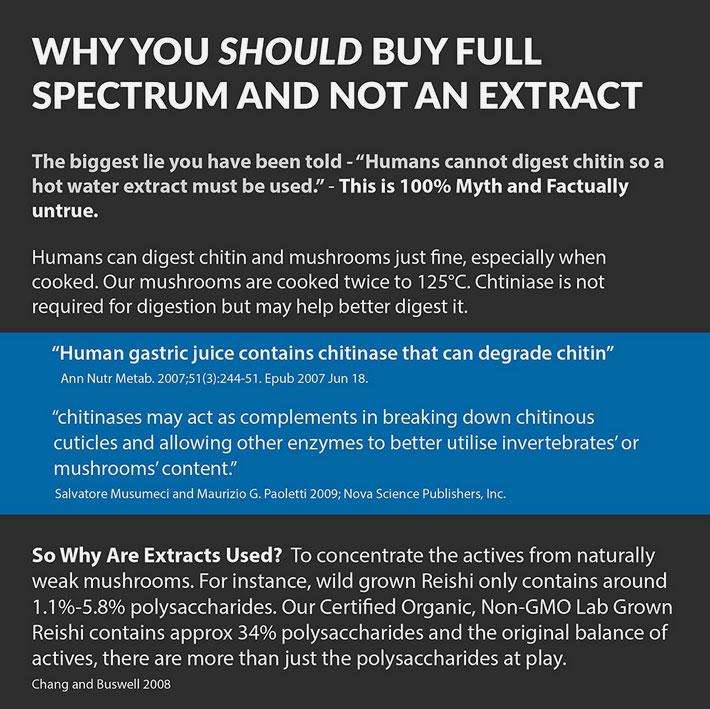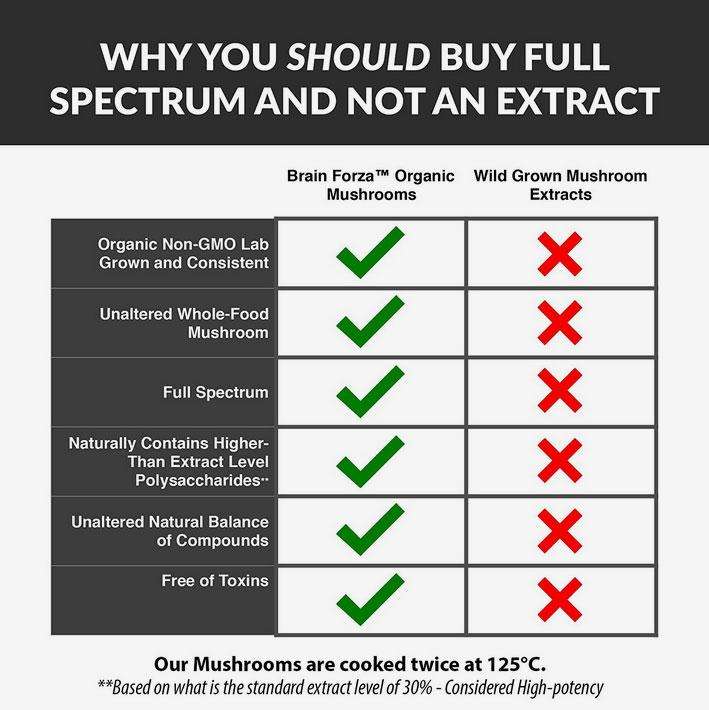 Organic Cordyceps Sinensis Mushroom Reviews
Great product!
Brings a lot of energy, great product.
I really didn't research this much at first because I shopped at a natural health store close to my house. I started taking cordyceps mushrooms last year and had different products from several different manufacturers. I think that they were all cordyceps miltaris and all contained mycelium. So I was taking the wrong mushroom. I have COPD and it helps daily.
Healthy aunt
My husband's 86 yr old aunt is into nutrition and lives in assisted living. Asked specifically for Cordyceps Sinensis mushrooms because she had been feeling a little fatigued and under the weather. I bought them for her and within two days she reported that she felt much better and her energy level had increased. She was so happy to have been feeling better and wanted to make sure she did not run out she asked me to buy her 12 more bottles plus two additional bottles for my husband (although I have yet to receive this shipment), she might be up in years but she knows her stuff. Thank you.
Great Stuff
I wanted to wait awhile, so I could judge this supplement fairly.
My energy has gone thru the roof, I am able to focus and concentrate on anything I want. My anxiety has gone down 10 fold. I have great stamina. I feel 15 years younger
Focused!
With the cordyceps, I am able to drink a lot less coffee and sometimes none at all. I've use this both as a preworkout and to focus for my studies as a PhD. Great product for an awesome price!