European Lemon Balm Extract Capsules 5% Rosmarinic Acid
Non-GMO • Gluten Free • Vegan • Kosher • Halal • Grown in Europe & Made in the USA
Natural European Lemon Balm Extract Benefits
When taken daily, initial publicly available clinical trials show Lemon Balm Extract and Rosmarinic Acid may possibly support: High-Quality, extra strength Lemon Balm Extract form Europe grown to stringent European specs*
Support for stress, mood, focus & memory*
Standardized to the antioxidant rosmarinic acid*
Capsules may be opened up and dispensed into water to make tea
Non-GMO, Gluten free, Vegan, Kosher & Halal
Made in the USA in a brand new cGMP & NSF® Certified Facility
Overview: What is European Lemon Balm Extract?
PLANT GROWN IN:
Bulgaria & Albania


STANDARDIZED
5% rosmarinic acid

DIRECTIONS & LABEL
As a dietary supplement, take 1 capsule once or twice daily as needed. We recommend starting with 1 capsule to asses tolerance. | Do not operate a motor vehicle or heavy machinery while using this product until reaction is assessed, drowsiness may occur in some individuals.
Full Product Label
Melissa officinalis, more commonly known as lemon balm, is a 'calming' herb that has been used for centuries. This perennial herb grows ovate leaves and small flowers, offering a lemony aroma and flavor. Over 100 chemicals have been identified within lemon balm, offering a wide range of potential benefits for both the body and mind.


A member of the mint family, lemon balm has been utilized for more than 2,000 years. The Greeks called lemon balm 'melisophyllon' — meaning honeybee and leaf. Since the 16th century, gardeners had made a connection to bees in terms of this nectar-filled plant. Promoting pollination and honey production, lemon balm is known to calm the mind.


Used to make 'longevity' lemon balm tea, royalty would often drink this tonic to promote positive health. By the 17th century, Carmelite nuns created a lemon balm combination which was used for hundreds of years, treating a range of nervous disorders. Today, it's still considered to be a natural calming remedy, while offering a number of other potential benefits.


Why European Lemon Balm Extract? Eastern Europe is the best place to get Lemon Balm. It grows naturally in abundance throughout the Balkan countries and has been harvested for centuries. Bulgaria is one of the best and largest (if not the largest) producers in the world of Premium Lemon Balm and Lemon Balm Extract.

Why Buy Ours?


Our premium European Lemon balm extract is unlike any other on the market. Not only in serving size, but also it's origin and standardization. The raw material comes to us at a hugely increased cost vs other lemon balm extracts, but here is why.

Regular Lemon Balm extracts, say just a by-weight 10:1 ratio Lemon Balm extract may be effective, however other compounds in the plant can make people extremely groggy. What do we feel is the most important compound? Rosmarinic acid. In our experience, and defined by the compounds structure (more on that in a moment), rosmarinic acid may offer the stress and mood support you are looking for, with the relaxation, but without the grogginess. One reason why, is that rosmarinic acid may cross the blood-brain barrier and is similar to caffeic acid, found in green coffee beans. Caffeic acid may help support key neurotransmitters and a sense of "vividness" and mood support, but without forcing you awake or stimulating the central nervous system like caffeine, also found in green coffee beans.*

First hand experience testing the material, and feedback from our customers confirms this. People report feeling very well, relaxed, but without grogginess, and also, not "stimulated".*

Also, our Lemon Balm product is manufactured in a cGMP, FDA approved, NSF®, USDA Organic certified facility with state of the art equipment, in Anaheim, CA.

Why You Need It:


In our experience, this Lemon Balm extract is one of those "works right now" kind of supplements. Meaning, with even one use, while feeling stressed, you may experience a better mood or some support fighting the stress. We recommend opening 1-3 capsules, mixing them in a cold glass of water (add some stevia to sweeten if you like) and sipping on that, as it may be quicker-to-effect that way.*
Lemon Balm Extract Review
An unconventional but amazing video review by Epic Beasts of our European Lemon balm extract. - Caution! Contains one expletive.
Lemon Balm Extract Tea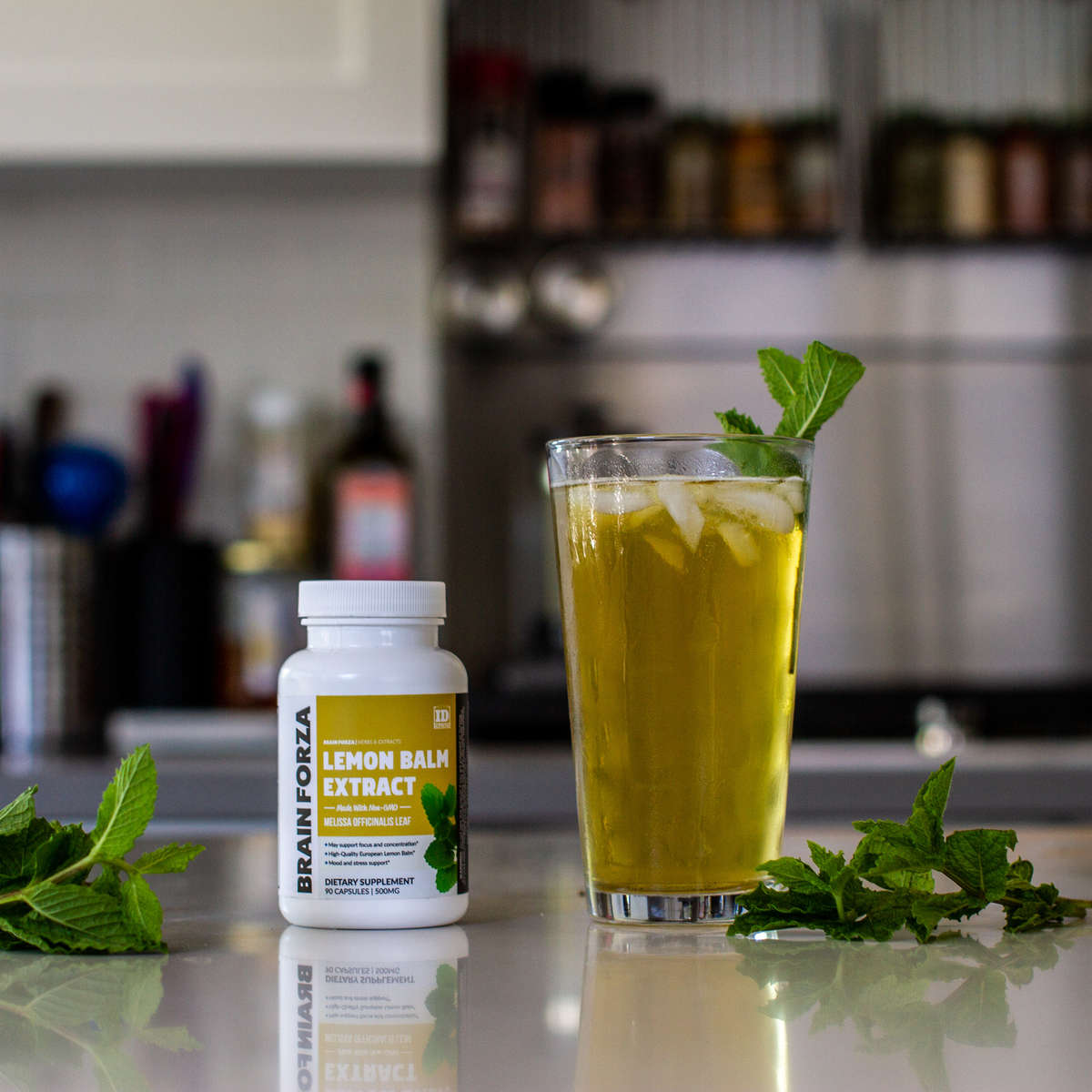 Don't Be Shy, Give Lemon Balm Extract Tea A Try
Don't be shy! Open up 1-3 capsules, put them into cold (or hot) water, stir, add stevia to sweeten if you wish, and enjoy!

The flavor is that of a strong, slightly bitter Lemon Balm tea, we love it!
European Lemon Balm Extract Reviews
Did not work on dementia. Sorry
Hello! I am not sure who recommended it to you for that, but not only do we not market or sell the product anywhere for that purpose, but we can tell you flat out, it would not help with that issue unfortunately. Whoever told you that did you an unfortunate disservice. We wish you all the best, feel free to reach out to use in regards to your order. We wish you health and happiness.
it works!
one of my favorite new supplements. to be honest, i didn't expect much from lemon balm given the wide array of mind supplements out there, but this herb can be felt right away and puts me in a nice mood.
This lemon balm extract helps me get calm and enjoy mental relaxation. When I find myself wide awake at night it has put me back to sleep without a hangover in the morning. I take a smaller dose during the day to combat stress buildup while at work. Another positive benefit is this lemon balm extract eases my stomach tension which does wonders for my mood. This supplement is in my permanent herb arsenal.
Always calms, relaxes, and helps me sleep. A must have!
I've been taking this product for the passed month. It was recommended to me by a friend when I told him about my intense anxiety, stress and depression. This is truly AMAZING! I take it when my anxiety kicks in an it takes it down enough for me to get through the day. I also take it daily when I'm done work I put it in a hot cup of tea and it relieves my anxiety an stress. It's very mellowing (as in it's not knock you out) an definitely helps me relax an fall asleep with a clear mind!!
I recommend this to EVERYONE!
ESPECIALLY if you deal with anxiety, depression or stress!!